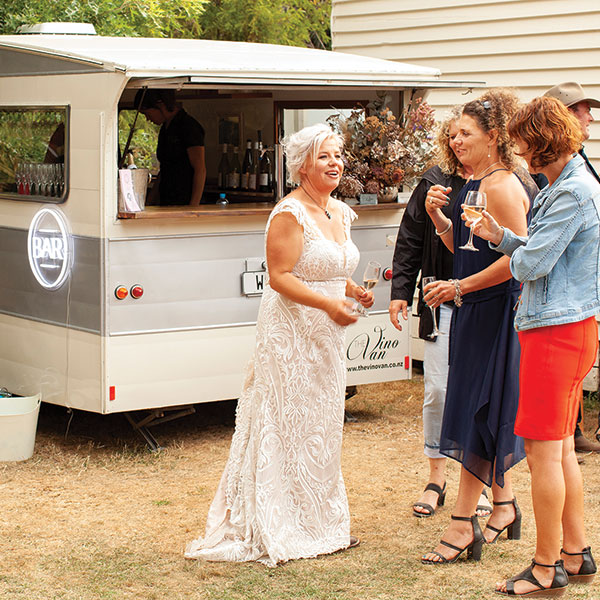 Try something different and celebrate with the Vino Van
The Vino Van is our beautifully restored 1962 Roadmaster caravan. Fitted with a wine and beer fridge at one end and a push out bar with two keg taps at the other, The Vino Van is available for hire for any celebration or event. The Vino Van is suitable for a wide range of mobile bar services and a variety of event types including weddings, birthday parties, corporate events, Christmas parties and product launches. He can even be used in a photoshoot. The options are endless.
Every Vino Van outing is different. We work with you to ensure your event is tailored to your specific needs
We are not just a mobile bar service, we will ensure that your event runs smoothly, empties are removed, tables are cleared and your guests are well looked after
You need only to provide the alcohol and glassware – no corkage, no inflated bar prices and you get to keep what's left over
We can serve champagne, wine, bottled beer, keg beer or cider, cocktails – pretty much any liquid beverage you require to ensure your event is exactly what you want it to be
We supply ice, fruit infused water and non-alcoholic punch as part of your package
Talk to us today about adding all the fun and free flowing good times of The Vino Van to your next event. CONTACT US to find out more.
Celebrate & Enjoy your day with no fuss!
Encourage your guests to mingle while selecting cool beverages from our custom fitted retro caravan.
Your selection of wine, two beers on tap and fresh juices served by our cheerful staff, while you sit back and enjoy your special event.
Weddings made special!
We will take care of the bar
Welcome to The Vino Van
We looking forward to meeting you!
Start writing your drinks menu!
Two chalk boards provided
Special memories are created this way
How good does our van look at night?
Serve up a cold one!
Two beer taps built into our caravan bar
Have you hired a caterer?
We recommend Events by Anna - our sister company
Mandy Matthews
Owner and operator of The Vino Van
Custom bar fit-out
Simply hire with all the glassware you will need
Our van is so photogenic!
Add a touch of nostalgia to your wedding with The Vino Van
Add cocktails into the mix!
Add cocktails to your bar service order
Serving you on your wedding day
How good are these pics of the lads testing out our keg taps